WIPFELGLÜCK TREEHOUSE HOTEL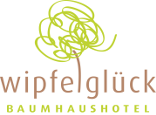 A WONDERFUL LOCATION
The ensemble of treehouses is situated in an indescribably beautiful piece of forest sheltered by old Spessart oak trees in the climatic spa town of Moenchberg in legendary Spessart. 
"Wipfelglück" is situated in the middle of the forest and yet central to the town centre with all the necessary shops, a variety of dining establishments, a remarkably beautiful outdoor pool, tennis courts and many wonderful hiking routes.
LIVING IN A TREEHOUSE
Your personal retreat for the time you are at "Wipfelglück" is situated roughly five metres above the ground and is a cosily furnished wooden house with an area of 25 m2 (including terrace) that safely nestles into and up against the trees. Besides a double bed, there is a bunk-bed as well as seating for four people in the four-person treehouse. A washbasin and toilet are accommodated in a small bathroom. The terraces also have comfortable seating.
ACCESSIBLE TREEHOUSE
One of the six houses is designed to be accessible so that guests with restricted mobility also have the chance to stay overnight in a treehouse!
OUR GPS COORDINATES ARE:  NORTH 49 ° 47´ 29" EAST 9 ° 16´ 44"
---